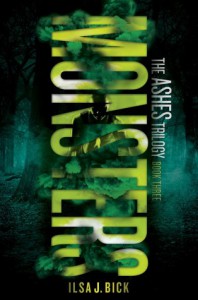 Frustrating. That is the word i would use if i had to describe this book or the trilogy in one word. The first book showed promise of a good story, the theme and event that started it all off had potential. Now, after finishing the third book I'm left feeling... disappointed.
And it is frustrating because part of me really want to like this trilogy, but its just not working.
I think the main issue I have is the number of characters. Its like the series is trying to cover just too much. I wish the author would have settled on following just a few instead. It just gets complicated and confusing. And its keeps jumping between characters with almost every chapter, which sometimes had me reading a page or two before i even realized which character that particular chapter was about. Frustrating.
The other main issue i had was the fact that pretty much everything you could think of that could go wrong does. And then some. I know this is en 'end-of-the-world' type book, and that a lot of bad things are bound to happen, but to me there is a limit where i find myself wondering if there is any point in finishing the book as it is just getting a bit silly.
I did manage to finish it, mainly because once I had read the first book - which i found to be ok - I read the second book. Which wasn't quite so ok. But as I had read 2/3 i wanted to finish the series. I'm stubborn like that. At times I wished i hadn't though. Quite often I was just skimming the chapters to get to the end.
Ironically the last 10% of the book was the best bit of it. It just took a loooong time to get there...
I would only recommend to those of you that have read the first 2 books and liked them. If not I think I would look for a different book...